How to download Power BI on each platform
When it comes to Data Analytics Tools, there are some well-known names such as Tableau, Exel, Python, SAC, and FineReport… And obviously, we can not help mentioning Power Bi app from Microsoft.  Officially launched in 2013, Power BI has been proving its "world's most powerful data analytics tool" status. Have you ever used Power BI, let's find out how to download Power Bi on each platform through this article!
Power BI is a data analysis tool developed by Microsoft. This is the product provided by Microsoft whose famous office tools are Word, Excel, Powerpoint… Specifically, Power BI is also one of the best tool for Business Intelligence. Power BI is used for the main purpose of helping users analyze and visualize data in the most optimal form. Analytical data can be obtained from multiple sources and the final results are expressed as visuals, reports, or visual results. This has important implications, influencing the final decision of the user. 
Currently, you can use Power BI on 3 main platforms: website, software and app with 2 groups of devices: computers and phones. Details are as follows: 
Power BI is used on the computer as software

Power BI is used on the computer as a website 

Power BI is used on the phone as an app

Power BI is used on the phone as a website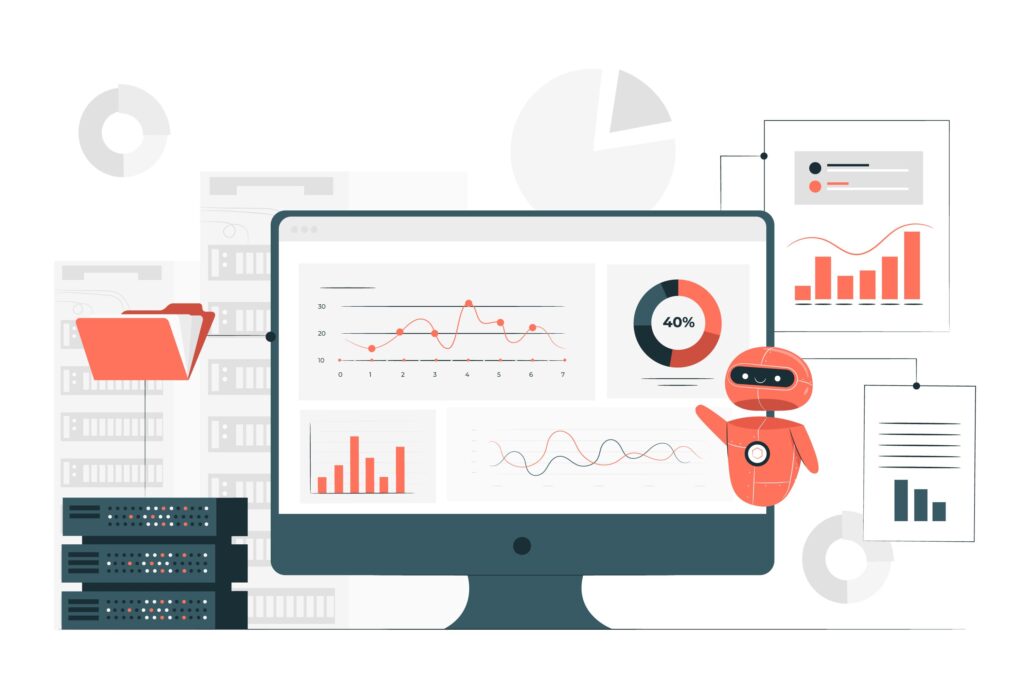 Power BI download on computer devices
In order for the Power BI download to proceed successfully and quickly, your computer needs to ensure the following minimum configuration conditions: 
Operating system: Power BI currently only supports computers with Windows 10, Windows 7, Windows 8, Windows 8.1, Windows Server 2008 R2, Windows Server 2012, and  Windows Server 2012 R2 configurations.

RAM internal memory: The internal memory of the computer must be at least 1GB or more. 

.NET: 4.5 

Screen resolution: The screen must have a minimum resolution of 1440×900 or 1600×900.

CPU processing speed: The minimum processing speed required is 1 Ghz. 

Browser in use: For computers that are using Internet Explorer, you should use Internet Explorer version 9 or later. Or use more optimized browsers such as Google Chrome or Coc Coc… 
After checking that the computer meets the configuration conditions, go here to start Power BI download.
The specific steps to be taken are as follows:
Step 1: Download Power BI
Proceed to access the link above. Click the red 'Download' box.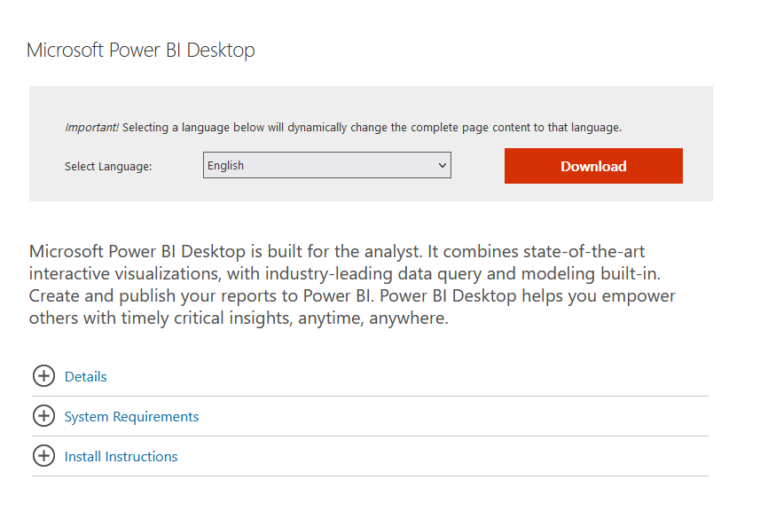 At this time, the options window will be displayed, depending on the configuration of the computer you own, select the appropriate version.
If your computer has a 32-bit configuration, select: PBIDesktop.msi;
Otherwise, the computer owns a 64-bit configuration, press: PBIDesktop_x64.msi.

To finish the Power BI download step, select the Next box.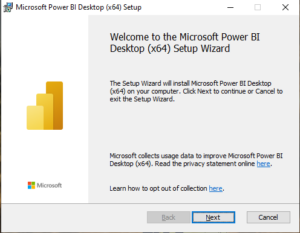 After successfully download, first open the downloaded file, select the language and click Next.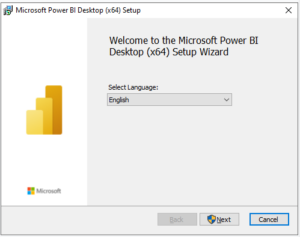 Next, click on the I accept the terms in the License Agreement box to confirm your agreement with Power BI's operating policies and terms. Press Next.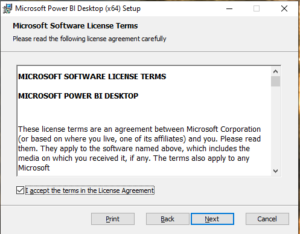 Select the path to install Power BI on the computer. If you want to change the other path, press the Change option and then press Next.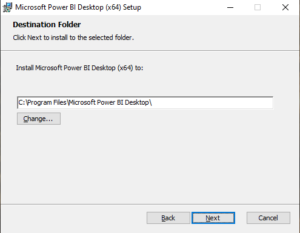 At this time, an options panel will be displayed, click the Create a desktop shortcut box if you want to create an icon outside the screen and vice versa. Then press Install.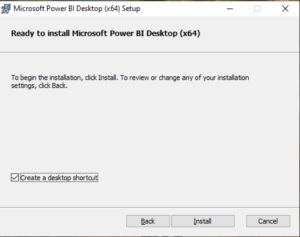 Finally, once the program is installed, you will receive a notice board. Press Finish and finish the installation.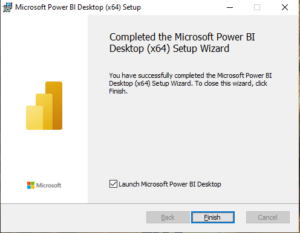 Note, if you do not want to start Power BI when you finish installing, uncheck the Launch Microsoft Power BI Desktop option and then tap Finish!
For the website platform, you do not need to download Power BI on computers. Click here to quickly access the official Power BI website and start using the Microsoft tools!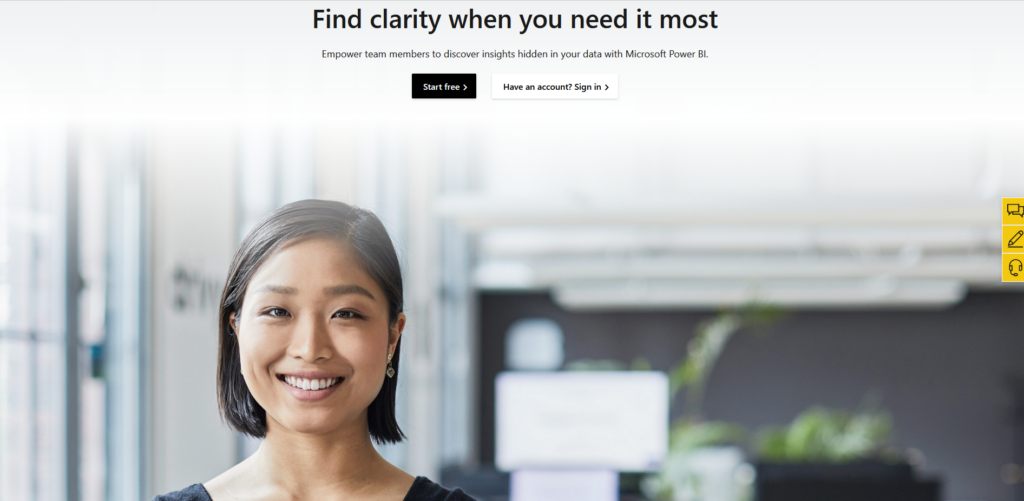 Power BI download on mobile devices
The process of Power BI download on your phone will be much simpler than downloading it on your computer. 
First, go to Google Play, sip the search and tap Microsoft Power BI.
Next click Install.
After the installation is complete, tap Finish or Open (depending on the phone interface) and finish the process.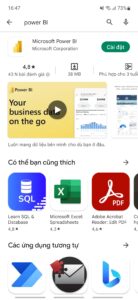 In order to make the best use of the Microsoft data analysis tool, there are two tips I want to share with you. 
Firstly, at the step of selecting the path to install Power BI on your computer, you should select a drive other than drive C. This is aimed to save memory, extend the lifetime of the hard drive as well as process the loading of other programs and software faster.  
Second, Power BI allows users to use features even if they're not signed in to the app. However, in some cases, if you want to use the full functionality correctly, you need to log in to the app. 

Hopefully, after reading this article, everyone can download this data analysis tool to their computer or phone. The potential that Power BI brings to us is huge, so keep exploring!