Windows 11: Ideal Operating System for Hybrid Work
Microsoft officially confirmed the name of the next version of Windows: Windows 11. After months of teasing about the number "11", Microsoft's new operating system was officially launched on June 24, 2021. It can be said that Windows 11 is the latest version of Windows operating system was released by Microsoft after 6 years of absence.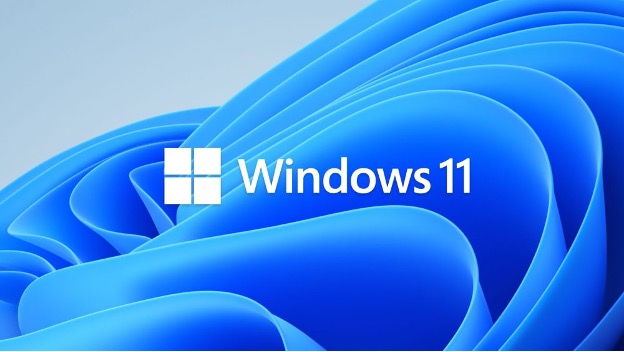 Windows 11 also owns the design of Windows 10X to increase its competitiveness with Chrome OS operating system. They have outstanding highlights including new Start menu, new system icons, upgraded virtual keyboard, improved voice input feature, new Microsoft Store interface, etc.
Windows 11 will offer 11 different versions of Windows to serve each purpose and user, including:
– Windows 11 Home
– Windows 11 Home N
– Windows 11 Home Single Language
– Windows 11 Education
– Windows 11 Education N
– Windows 11 Pro
– Windows 11 Pro N
– Windows 11 Pro Education
– Windows 11 Pro Education N
– Windows 11 Pro for Workstations
– Windows 11 Pro N for Workstations
When will windows 11 be available to users?
Microsoft expects to start shipping new Windows 11 PCs this fall. About users who are using Windows 10 will also get a free upgrade to Windows 11 at that time. However, the process to be able to upgrade all users will last from the end of this year to 2022.
Upgrading to Windows 11 is optional, meaning Windows 10 users can still use Windows 10 until it is discontinued in 2025.
New & Outstanding Windows 11 features:
With a brief but impressive intro "a new experience designed to bring users closer to the things and people they love." It can be said that through this upgraded version, Microsoft wants to create a new breakthrough in the daily life of users. They claim that this is the most secure version of the operating system.
Windows 11 is like a revamped version, changing from the startup sound to new application icons. Microsoft says Windows 11 possesses much higher speed than its predecessors.
The feature of "waking" the device from sleep has also been improved, Windows updates are up to 40% smaller and happening in the background, browsers will also be faster on this new operating system.
Start Menu
Windows 11 now with a completely new Start Menu and taskbar experience. Live tiles have been replaced with icons, similar to Android and iOS. You can still move the Start Menu to the left and choose a color to customize the look and function of the operating system.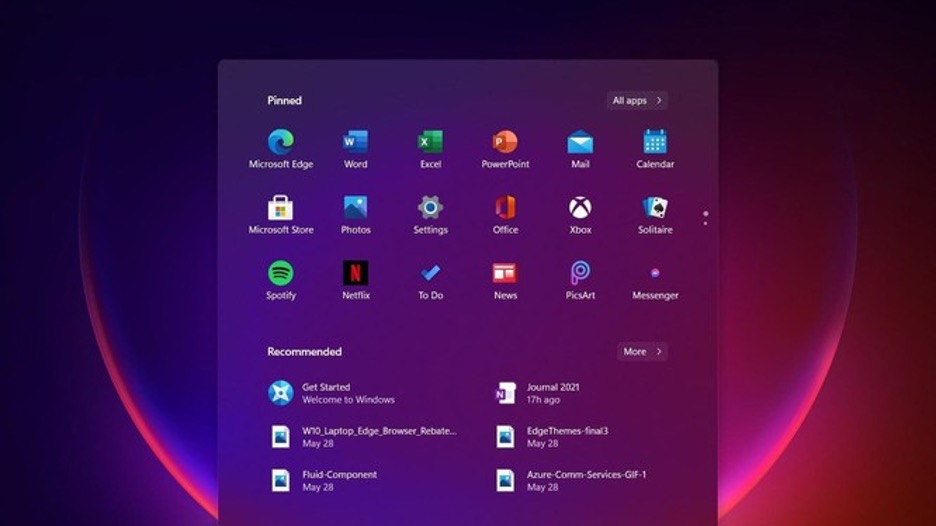 Windows Widgets
Microsoft introduced AI-powered widgets, with news, weather forecasts, and essential user content right on the screen. The widget icon will be in the taskbar, you just need to click to see the information.
New Windows Store
Microsoft Store has been redecorated from the ground up to improve speed, bringing a new app store for Windows 11 and Windows 10. Users feel like they are lost in a new creative land, feel free to explore and install new apps, favorite apps, games, movies and more.
The streaming tab now integrates more streaming services, allowing you to cast content from your device to your TV.
The list of apps is also expanding, allowing for Win 32 apps, PWA, UWP and more. Developers can also use their own engine and will keep 100% of the revenue (if any).
Several desktop apps, including Adobe Creative Cloud, TikTok, Notepad, and Paint will be available on the Store.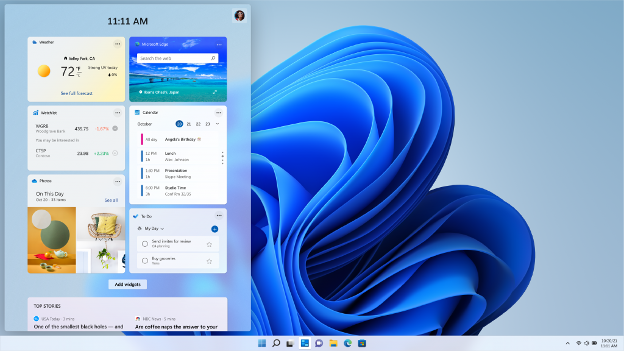 Android Apps on Windows
The most interesting announcement in this upgrade is that Windows 11 supports Android apps.
Using Intel technology, Windows 11 will let you use Android apps on your computer. They are available in the Microsoft Store through the Amazon App Store.
Android apps will stay in the taskbar like other apps, and you can easily drag the app window around the screen.
Windows Clipboard
Microsoft redesigned the Windows Clipboard panel, making it possible to add GIFs and emojis to apps. Instead of searching for GIFs/emoticons online, you can also select or search for documents via the search bar in the menu, as shown in the image below.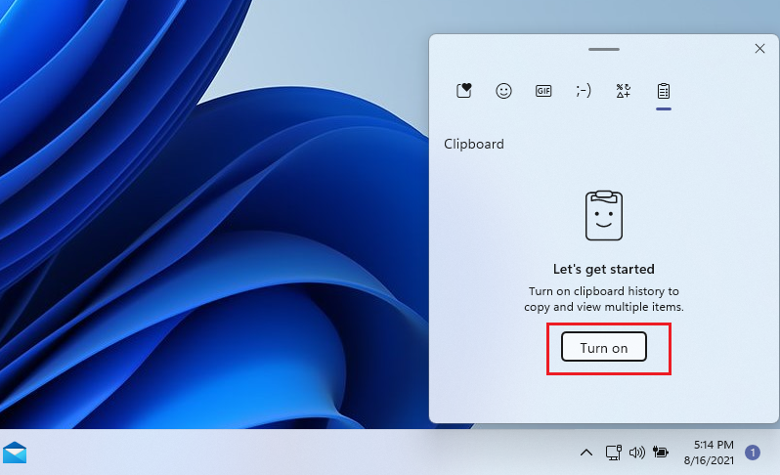 Windows Clipboard also has a new feature called "paste as plain text". If Windows 10 currently retains the formatting of the text content when it is copied from a web page or mail. If you paste the content into another application like Word, you will see the formatting is skewed.
However, for Windows 11, users can open the clipboard menu and paste the content as plain text, removing all unwanted formatting to make the work much more professional.
New virtual keyboard
Finally, Microsoft also redesigned the virtual keyboard. You can now switch between multiple keyboard layouts. When not docking, Windows allows you to switch to a small keyboard layout for more flexible operation.
In addition, Microsoft has refreshed the layout as well as created a new settings menu to improve the clarity of important tools. Since Windows 8, the virtual keyboard has been an important part of the operating system, but it has never received additional customization options. Therefore, Windows 11 will help users have a better virtual keyboard experience, including support for virtual keyboard wallpapers.
In this operating system you will find many new wallpapers for the keyboard with dark and light modes or you can also find the keyboard color and size in Windows Settings.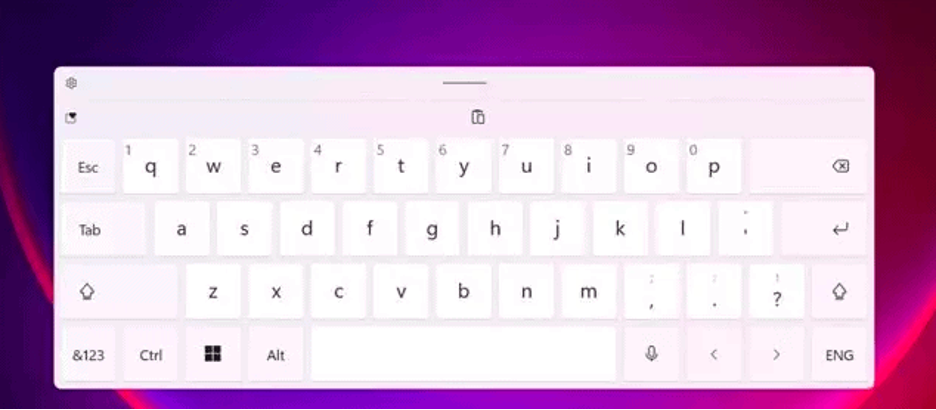 Improved experience on touch devices
Windows 11 offers a smooth user experience for both mouse, keyboard, and touch. When using touch mode, the icons on the taskbar automatically expand, creating more space for easier touch.
With a touch keyboard that looks like a mobile phone keyboard, you can swipe your finger to enter characters, using the spacebar as a trackpad. Convenience is also upgraded to a new breakthrough with B voice input feature when it can automatically break sentences and accept voice commands.
Task View and desktop
With Windows 11, Microsoft redesigned the Task View screen with new permissions for virtual desktops. Users can now rename, rearrange and customize the background for each virtual desktop.
For example, you can use one virtual desktop for work and another for personal, like streaming. You are allowed to create as many virtual desktops as you want.
Improved multitasking
Microsoft introduced new Windows 11 multitasking features, including a cleverly designed multitasking layout that lets you quickly switch to the part of the window you need.
Windows 11 will remember where you put your windows so you can quickly find and switch to them. If you use a laptop and desktop at the same time when you switch to a laptop, Windows will remember the position of the windows and immediately return them to the correct position for you. This feature will also work when you use multiple monitors, and reconnect to a previously used display.
Task Manager is integrated with Microsoft Edge
Task Manager is a tool to analyze the performance of web browsers like Edge and Chrome. Right now, when you open Task Manager and Microsoft Edge or any other browser is running in the background, you will see a long list of "Edge" processes with the same name.
Windows 11 gives Microsoft Edge a big advantage over other browsers, as these "processes" are now streamlined in the Task Manager. Each tab and other processes will be named and organized into different categories so you can see which browser features are taking up the most resources.
Currently, Task Manager will support the following browser classifications:
• Tabs.
• Browser, GPU Process, Crashpad.
• Utility plugins.
• Dedicated & Service.
Each process will have a separate favorite icon or icon to help you identify the open tabs/websites, including the favorite icon for the site.
Eco mode in Task Manager
Windows 11 comes with a new "Eco Mode" for Task Manager to give users better control over running processes. In the new Task Manager, you can right-click an application and select "Eco mode" to stop resource-hungry processes, helping to save the most energy.
When an application is paused using Eco mode, other applications receive the priority of system resources. This can reduce CPU usage, improve overall system performance, and provide better thermal performance.
Subtitle and camera settings
Microsoft introduces improvements to subtitle settings in Windows 11.
Besides, you also find new webcam settings that allow you to configure the webcam connected to the device, include an external camera and integrate with your laptop/desktop. From there, you can adjust the webcam's brightness and contrast to improve image quality. Previously, it was only possible to customize the webcam through third-party applications because Windows did not have this feature. When you use the webcam for Skype applications, Microsoft Teams, etc, a notification appears in the notification area.
Improved Bluetooth audio experience
To streamline the Bluetooth audio experience and provide greater control, Microsoft is adding new features to the Bluetooth audio engine. It can be said that this is an important step in the current development of bluetooth audio, the use of a strap is cumbersome, especially when you use an iPhone and a laptop that is not compatible with the socket, the use of a Bluetooth headset is the optimal solution, fast.
With Windows 11, Microsoft unified the audio endpoint, which means you can switch between microphones and speakers without manually changing the audio endpoint. Windows will only show one endpoint on the taskbar and it will automatically switch to the correct endpoint in the default way. This ensures you have a seamless experience when switching between apps like Spotify and Microsoft Teams.
Microsoft also introduced support for the AAC codec, which allows for good audio streaming quality in Bluetooth headphones like AirPods.
New display settings
Microsoft adds new permissions to display Windows' settings page. Like adding a new "Content adaptive brightness control (CABC)" option to turn off image quality improvement.
File Explorer layout update
The default layout of the classic File Explorer has been updated with a new spacing section to improve the virtual desktop experience. If you prefer the older layout, Microsoft added a new option "Use compact mode", which you can access from Folder View Options. When you enable this, it restores the classic layout and removes excess spacing.
In addition, Microsoft also refreshed the Desktop, Documents, Downloads and Pictures folder icons. The Recycle Bin icon has also been updated.
Microsoft designed the rounded corners and shadow effect in Explorer.
Monitor storage status
Windows 11 can now monitor the storage health of NVMe SSDs and notify users when data is at risk. This feature can be found in the Settings app. If the drive has a problem, you will be prompted with a backup and restore message.
Optimize Drives tool is getting better and better
With Windows 11, some old features like "Optimize Drive" received minor improvements. For example, a new "Advanced View" checkbox will show your hidden volumes. Another new checkbox "Current status" will show more details when the volume is not available for defragmentation.
New emojis
New emoji designed to support Emoji 12.1 and 13.0.
Microsoft has added over 200 new glyphs. As part of the Windows update, the operating system now features a sexist emoji design.
Existing emojis are also getting visual changes to improve consistency across Microsoft products.
New font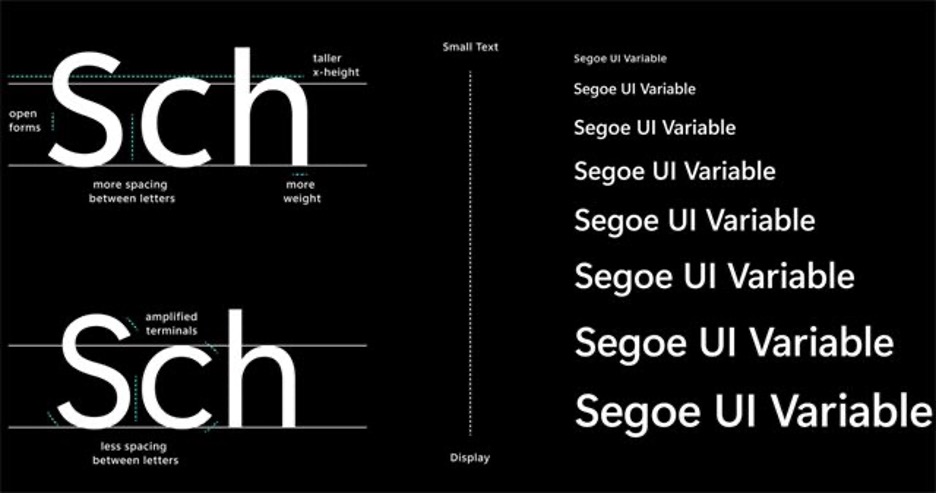 Microsoft updates the Segoe default font user interface system-wide. You'll see new Segoe Fluent icons in apps like Settings and Control Panel.
This new font technology will make it easier for users to read in large/small sizes.
Improvements to Windows Sandbox
Microsoft uses Windows 10X technology to power both Windows Sandbox and Microsoft Defender Application Guard. With this technology, the launch time of Windows Sandbox will be significantly improved. Additionally, Windows Sandbox has been updated with the new Chromium-based Microsoft Edge browser.
Bloatware has been removed
Windows 11 will also remove unnecessary apps and bloatware.
For example, 3D Viewer and Paint 3D will no longer be pre-installed on Windows. If you want, you can find these apps in the Store.
Microsoft has also removed the Math Input Panel due to few people using it. However, you can still use it by downloading and installing "Math Recognizer" when you need to use it.
Some apps are updated via Store
Applications such as MS Paint, Windows Notepad, and the Snipping Tool can now be updated through the Microsoft Store. These apps are now updatable outside of major Windows updates. Microsoft also refreshed the app's icons. Likewise, Paint has been "advertised" and occupies its own place in the Start Menu, outside of the Windows Accessories folder.
The Windows update retains the legacy slicing tool, which can now be updated through the Microsoft Store.
Windows Tools
The new "Windows Tool" will open in File Explorer with links to advanced applications, such as PowerShell and Windows Accessories. Basically, the https://dev.nois.vn/wp-content/uploads/2021/06/loi-ich-cua-e-form-3_optimized-8.jpgistrative tools and the Organizing system are in the Windows Tools folder. You can access through this directory. Of course, you can still find PowerShell in Windows Search. Microsoft also created a separate place for File Explorer in the Start menu.
Windows 11: The Future of Hybrid Work
• With a faster system processing speed that is more optimal than its predecessors, it will help all your tasks and management work smoothly and effectively. From PDF, Word, Excel files, optimize software opening quickly, no longer lag, overheating and especially Windows 11 ensures absolute safety for stored data information.
• A more modern designed desktop interface that maximizes user productivity to perform multiple tasks with ease thanks to tools such as Snap Layout, Desktop and a docking experience new and more intuitive. Businesses can open multiple tabs at the same time to increase work efficiency. While conducting online meetings, you can open tabs to note important points, or open report documents, digital age work is more minimalist than ever.
• Microsoft Team has also been upgraded: free calls, online chat with dozens of people at the same time, file sharing, online documents especially support for businesses in the current time of social distancing during the Covid like now. Unable to go to the company directly nor affect work productivity, at home with the same electronic device: PC, Laptop, Smartphone, etc, we are all connected to each other easily.
• The new Windows works on the widest range of devices, bringing you groundbreaking new innovations in touch, pen and voice technology, making it easy to find the right device at the most affordable price. Combined with a stylus and the optimal Windows 11 operating system, users can design graphics, cut and edit videos and images without difficulty. Windows 11 optimizes the battery effectively to help maintain the product, saving a large cost in warranty and repair for businesses.
• Windows 11 will also bring Android apps to the Microsoft Store. Interestingly, it will do this through the Amazon App store and not the Google Play Store. The operating system allows users to search and install Android applications right in Windows, we can use the applications simultaneously with the phone and the computer, without the need for complicated transmission lines like in the old years: file exchange, record keeping, contract signing all can be synchronized and thoroughly optimized.
Source: